Volunteer


Download · Help ·

Documentation

·

Add-ons

·

Links
Use the idle time on your computer (Windows, Mac, Linux, or Android) to cure diseases, study global warming, discover pulsars, and do many other types of scientific research. It's safe, secure, and easy:
Enter an email address and password.
Or, if you run several projects, try an account manager such as GridRepublic or BAM!.
For Android devices, download the BOINC app from the Google Play Store or (for Kindle) the Amazon App Store.
Compute with BOINC


Documentation · Software updates
About BOINC
BOINC is a community-based project. Anyone can contribute, by programming, testing, documenting, translating, or answering questions. Those who consistently make positive contributions can become part of the project's decision-making process.



Computing power


Top 100 volunteers · Statistics
Active: 253,962 volunteers, 418,009 computers.
24-hour average: 6.728 PetaFLOPS.
---
Teasel is contributing 7,434 GFLOPS.


Country: International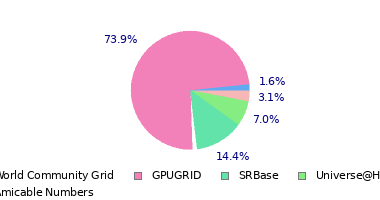 News
Add-on Linux screensaver released
Diet BOINC is a no-graphics, lightweight XScreenSaver compatible alternative BOINC screen saver, developed by P.K. Carlisle. It avoids libraries not included with default Linux or Python. 28 Jul 2015, 7:40:56 UTC · Comment

---
CNET article on volunteer computing
Check out Save the world using your PC or phone, an article on CNET.com about volunteer computing with BOINC. 20 Jul 2015, 7:34:38 UTC · Comment

---
WCG research result announced
An important research result from World Community Grid's Computing for Clean Water project was announced in a paper in Nature Nanotechnology. 9 Jul 2015, 20:59:19 UTC · Comment

---
New governance model
The BOINC project has transitioned to a community-based governance model. This model is summarized here and described in detail here. 3 Jul 2015, 17:39:36 UTC · Comment

---
BOINC Pentathlon announced
SETI.Germany invites all BOINC teams to the BOINC Pentathlon. The competition is battled out in five disciplines at five projects between May 5 and May 19. 16 Apr 2015, 6:44:07 UTC · Comment

---
... more

News is available as an RSS feed