Project News
[SRBase] Extreme Sports Winter X Games challenge (01/27/2023 01:00 (UTC) - 01/29/2023 01:00 (UTC)
BOINC Games has published the sprint project, SRBase was choosen, unfortunately no one got an info at the right time. Nevertheless we have enough work. Preparing more later.
View article · Fri, 27 Jan 2023 09:04:11 +0000
---
[LHC@home] Server upgrade
The LHC@home BOINC servers have been upgraded to the latest server release, 1.4.2.
View article · Tue, 24 Jan 2023 07:45:31 +0000
---
[PrimeGrid] A Prime Chinese New Year Challenge starts January 22, 12:00 UTC
Welcome to 2023! And just days away, on Jan. 22, in the Lunar Chinese calendar: the year 4721. What do you know, a prime number! The first challenge of the 2023 PrimeGrid Challenge Series will be a 3-day challenge on the PPS-MEGA and GFN-17 MEGA applications, beginning 22 January 12:00 UTC and ending 25 January 12:00 UTC. To participate in the Challenge, please select only the Proth Mega Prime Search (LLR) and Generalized Fermat Prime Search n=17 projects in your PrimeGrid preferences section. Inquiries? Ideas? Impressions? Interjections? Inferences? Join the discussion at https://www.primegrid.com/forum_thread.php?id=10115&nowrap=true#159335
View article · Sat, 21 Jan 2023 06:11:38 +0000
---
[WEP-M+2] 12-digit factor of P2203 has now been found by the project...
...395219 times
View article · Tue, 17 Jan 2023 08:49:50 +0000
---
[SIDock@home] Target # 22: corona_RdRp_v2
Dear participants,

After doing initial studies on an established SARS-CoV-2 target RNA dependent RNA polymerase (RdRp), we are departing from protease studies and focus on RdRp along with additional NSP targets. Namely, RdRp (NSP12), is responsible for the transcription of viral genes and ultimately replication of the viral genome. The studied active site binds RNA and was previously studied in the context of remdesivir, galidesivir, molnupiravir and several other small molecules. Further reading below: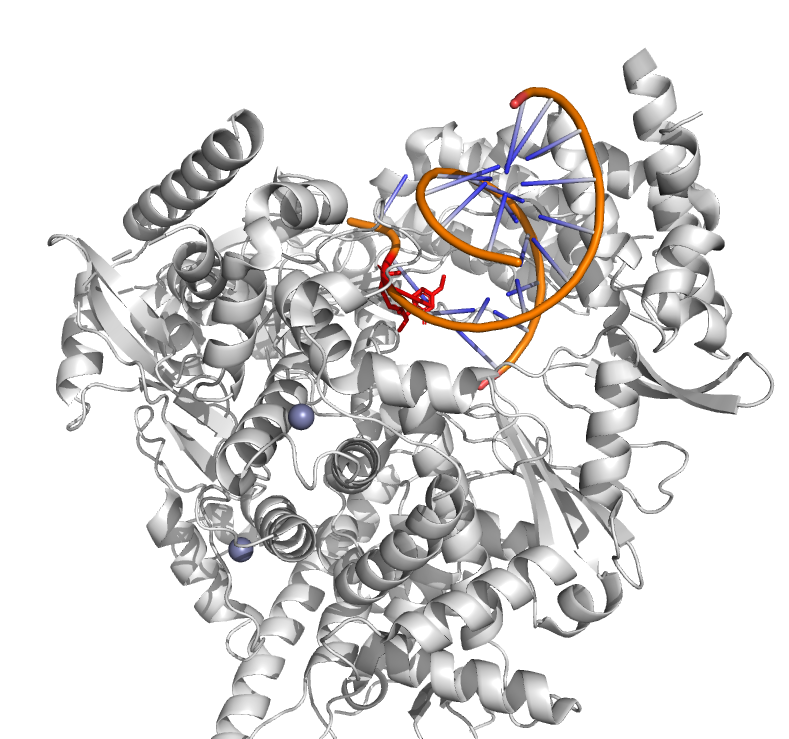 Figure 1: RdRp in white color along with RNA chain and N4-hydroxycytidine from Molnupiravir in the active site (red stick model).

With best wishes,
Natalia, Marko, Črtomir, hoarfrost.
View article · Sun, 15 Jan 2023 17:45:23 +0000
---
[SIDock@home] СmDock "long" and "short" tasks applications
Dear participants!

We created new applications named as "CurieMarieDock 0.2.0 long tasks" and "CurieMarieDock 0.2.0 short tasks", both based on CmDock 0.2.0 release. Algorithm of both applications are identical, but for "short tasks" we created only ARM-version and we plan to generate a special, smaller in 5 times tasks that covers one of part of entire tasks set. We advice all owners of small single-board computers like Raspberry Pi, to switch to "short tasks" application.

In next 1 .. 2 days we continue to generate new tasks "Sprot_delta_v1" (extended run) for both application, but later we issue a sample tasks set for new target (# 22) and only for "long application" because all task of sample set will be large. Simultaneously, project will continue to send Sprot_delta_v1 tasks for "short" application. And then we will proceed to sent long and short tasks for appropriate applications.

Hope that this explanation makes situation is clear.

Thank you for participation and donation of CPU time!
View article · Fri, 13 Jan 2023 23:35:04 +0000
---
[GPUGrid.net] ACEMD updated app
As I said. We are currently compiling the Windows version. GDF
View article · Tue, 10 Jan 2023 09:53:01 +0000
---
[Yoyo@home] P67 found with ecm
Simone Bonzanini found a 67 digits prime factor for the Cuningham number 22222+1. This saves a lot of NFS effort. The found prime is the first for this years ECMNET record list of Paul Zimmermann.
View article · Sun, 8 Jan 2023 23:00:00 +0000
---
[RNA World] Best wishes for 2023
We hope you all managed to celebrate a nice christmas season. Happy new year!

Wir hoffen, dass ihr alle ein schönes Weihnachtsfest feiern konntet. Frohes neues Jahr!

Michael.
View article · Sat, 7 Jan 2023 23:38:34 +0000
---
[Climateprediction.net] Request to volunteers to please enable: 'Leave non-GPU tasks in memory'
The OpenIFS model batches require the option 'Leave non-GPU in memory while suspended' to be enabled under boincmgr -> Disk&Memory. This will prevent the task from frequently restarting and reduce the risk of task failure.
View article · Thu, 5 Jan 2023 16:54:57 +0000
---
---
Copyright © 2023 University of California. Permission is granted to copy, distribute and/or modify this document under the terms of the GNU Free Documentation License, Version 1.2 or any later version published by the Free Software Foundation.