Recent items from the news feeds of various BOINC projects.
[LODA] Milestone reached: 100k programs!
We have reached the major milestone of 100k programs for OEIS integer sequences. This is an incredible achievement that was possible only by your amazing community support. Thank you all for your contributions to the LODA project! Special shout out to L'Alliance Francophone, who have boosted our findings during the last couple of weeks.

You have found many exciting new and faster programs for integer sequences. This includes decimal expansions of many irrational constants such as the Apéry constant (value of the Riemann Zeta function at n=3). Another major achievement is the discovery of an entire new class of programs related to partition numbers, which go back to Ramanujan.

In terms of tooling, we received support by the BOINC core team, which enabled us to provide ARM64 Linux platform and native Apple M1 support via a universal executable of the wrapper app. Quality remains one of our top priorities. While we already have a 94% pass rate on x86_64 Linux, we still aim at reducing errors on other platforms. Since we cannot catch up analyzing all the new programs manually (currently more than 100 per day), we plan to develop a new major feature that shall allow us to automatically derive formulae (recurrence relations) from many LODA programs.

Our next target milestone is 110k programs. We hope to keep up the amazing mining rate of >100 new programs per day. Thank you for your sustained support to the LODA project!
View article · Mon, 3 Oct 2022 10:31:39 +0000
---
[ODLK1] The results of the ODLK1 project for April-June 2022
The results of the ODLK1 project for April-June 2022 have been published.
Application odlk3: 435579 CF ODLK;
Application odlkmax: 442435 CF ODLK.

Yandex.Disk
https://disk.yandex.ru/d/SgngxR6G86eVtg
Archive ODLK1_Apr-Jun2022_named.7z
14 MB.
View article · Mon, 3 Oct 2022 06:46:24 +0000
---
[MLC@Home] MLC@Home shutting down for now, and thank you!
MLC@Home Is shutting down
After over two years, some bumpy moments, and the tremendous support from our volunteers,
I, as MLC admin, am making the decision to shut down MLC@Home as a BOINC project for the
time being.

Why?
We've achieved the goals I set out to accomplish (and more!) with 4 complete datasets comprising
dozens of terabytes of data to analyze. Now we need to focus on analyzing the results and writing papers.
As a researcher, at some point you have to stop generating data and write; and my family, work, and
school commitments have limited the amount of time I can spend generating new experiments. This
should be evident as I've been less and less responsive to the community over the past 6 months,
for which I apologize. While we can always want more from any endeavor, I think we've accomplished
a lot for now, and want to put the project on indefinite hiatus until something new comes along.

This is a time to celebrate all that our volunteers have achieved together! This
community has been amazing between the forums and Discord. We're shutting down not because of any
problem, but because we've achieved the goals we set out to accomplish. For that, I couldn't be
more grateful.

The only bittersweet aspect to shutting the project down is that I hoped to grow MLC@Home beyond MLDS,
to become a platform for democratized machine learning research. I failed to gain traction with other
researchers and as such MLDS was the only project on MLC@Home. COVID is partly to blame[1], but there are
a number of other factors ranging from how research is funded in a hot field like ML to my own limited time
commitments. If other researchers express an interest we can revive the project in the future, but for now
I can not justify running the project without a real path to meaningful new work. That's wouldn't be fair to
our volunteers.

What happens now?
First, as promised, the datasets will remain available (DS4 will require some thought and time to release, see
below), and the main MLC@Home website (https://www.mlcathome.org) and twitter feed will remain active so I
can post updates on any papers and how to access DS4 when available. For now, there are no changes
to the BOINC server portions of the website. I'll need to read up on how to properly archive the forums,
project pages, and stats so that they can remain available (read only) without becoming a magnet for spam
and the (currently hourly...) hacking attempts (sigh...). I will also be winding down the Discord community
over the next month or so.

For me personally, I will continue my research and work on publishing meaningful results. I'll also continue
to support other BOINC projects (I've been contributing to BOINC since the SETI@Home classic days)
and support the idea of volunteer computing. At some point, I'll write up my experience as a researcher
starting a new project and running it from the beginning to end; and hope that will be a resource for other
projects wanting to start out. It's generally been a positive experience, but there are some definite areas
for improvement.

For you, I encourage you to continue to support other great BOINC projects with your computing time. The
official list is here https://boinc.berkeley.edu/projects.php.

DS1/2/3 are up for download now, what about DS4?
DS4 is large over 12TB in size for just the Dense portion. So ti's going to require even more time to copy,
package, analyze, and upload. I intend to do this after my analysis and thesis is complete, which should
be in the next 6 months. If you are a researcher and want access to the dataset sooner, please contact
me directly and we can work something out.

The original idea for DS4 was to compute neural networks for each type of data using dense, LeCun-style
CNNs, and AlexNet CNNs. It turns out LeCun networks are so small and easy to compute that I can compute
50,0000 of them them locally on my won workstation in a day or two, so I didn't bother sending those out
as BOINC workunits (also because the current client crashes when computing LeNet5 on some platforms,
and it was faster to computer it locally than track down the bug). Since its debatable what scientific
benefit having AlexNet (another CNN) brings over LeCun networks I'll likely drop those from the dataset.

Thanks
Even if nothing else happens, MLC@Home has been major success. We produced scientifically
interesting and unique datasets, introduced a whole new type of science (machine learning) to the BOINC
community, and showed that machine learning research can be conducted by a group volunteers over
the internet.

There are a few groups and individuals I'd like to specifically thank for making this project such a success.
These include, but aren't limited to: the BOINC developers, especially Vitalii Koshura and the other
developers on the BOINC Discord server, for helping me develop the project from the very
beginning, Marcus (Delta on the BOINC Discord servers) for contributing directly to MLC@Home's
server backend processing software, and who, along with JRingo run the BOINC Radio podcast that
promoted and supported MLC@Home from very beginning. Mike from the PrimeGrid project for
providing some crucial early advice for running a new project. I'm sure I'm forgetting many others, just
know that we, as a community have many to thank for the success of this project.

I'd like to extend an extra thanks to the early volunteers on the project who helped make the forum a
helpful and welcoming place.

Thanks also to the CoRaL Labs and my advisor at UMBC for supporting the research and providing
funding for the new server after we quickly out-grew our original 2015-era ThinkPad laptop.

Finally, thanks to our 4200+ volunteers, who crunched over 12.5 million work units using more than
17000 hosts. I am truly humbled by your contributions and what we've achieved together. None of this
would have been possible without you. Thank you for giving a small unknown researcher a chance, and
I encourage you to seek out smaller projects in the future, as their success will help determine
whether BOINC continues to grow and thrive.

I leave you with one last, satisfying website screenshot: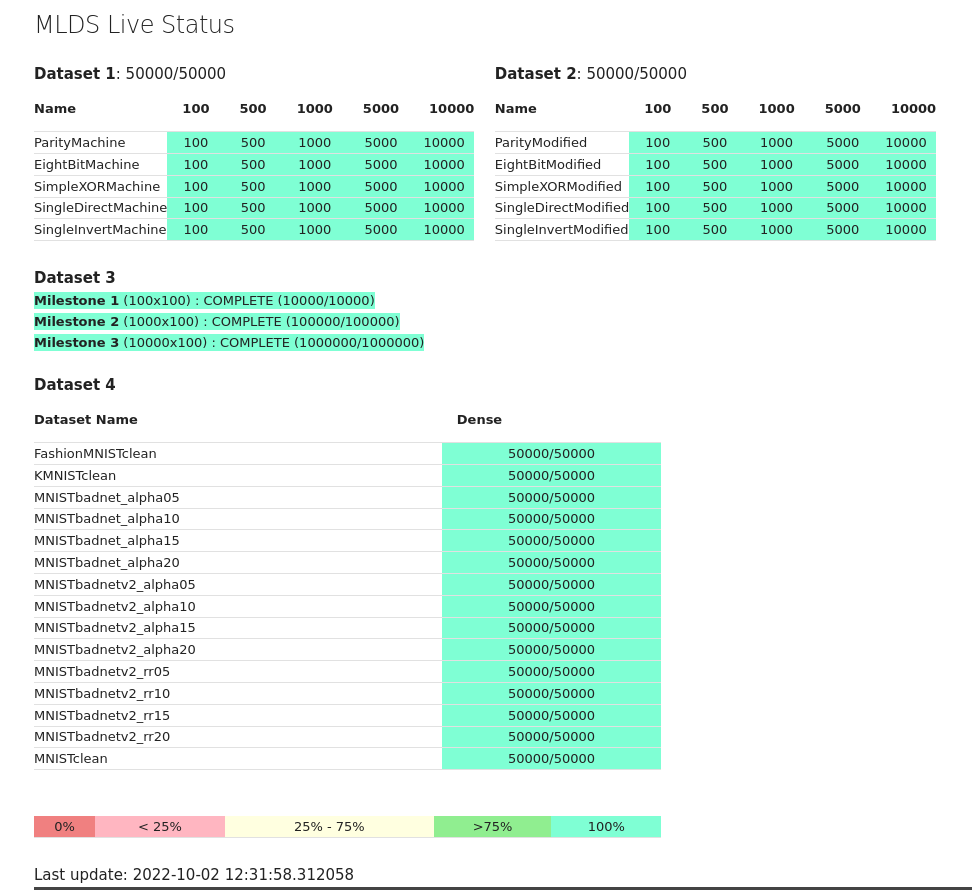 Thanks again to everyone,
pianoman

-- MLC@Home primary researcher and admin:
https://www.mlcathome.org/
email: mlcathome2020@gmail.com
Twitter: @MLCHome2
View article · Sun, 2 Oct 2022 17:22:59 +0000
---
[PrimeGrid] World Space Week Challenge starts October 4th
The sixth challenge of the 2022 Series will be a 7-day challenge in celebration of the annual United Nations education event, World Space Week. The challenge will be offered on the TRP-LLR application, beginning 04 October 12:00 UTC and ending 11 October 12:00 UTC. To participate in the Challenge, please select only the The Riesel Problem (LLR) project in your PrimeGrid preferences section. Confusions? Conclusions? Cautions? Confessions? Conjectures? Join the discussion at https://www.primegrid.com/forum_thread.php?id=10009&nowrap=true#157194
View article · Fri, 30 Sep 2022 20:18:26 +0000
---
[Milkyway@home] Server Maintenance 12:00 PM ET (16:00 UTC) 9/23/2022
Hey Everyone,

We've been noticing some occasional long loading times and brief connection disruptions with the server, so I'm going to take things down at noon ET tomorrow (4PM UTC) and reboot the server. It should be back up pretty quickly. Hopefully this fixes the issues we're having.

Best,
Tom
View article · Thu, 22 Sep 2022 16:30:56 +0000
---
[Milkyway@home] New MilkyWay@home Scientist
Hello everyone,

My name is Kevin Roux and I will be working with Dr. Newberg for my Ph.D thesis. I look forward to working on this project and working with you all for the next couple of years.

Best,
Kevin Roux
View article · Wed, 21 Sep 2022 17:54:01 +0000
---
[Milkyway@home] New MilkyWay@home scientist
Hi, my name is Hiroka. I am a PhD student working with Prof. Newberg. As part of my theses, I am working on the nbody project.

Thank you,
Hiroka
View article · Wed, 21 Sep 2022 17:46:42 +0000
---
[SRBase] cable provider down
The network connection was not available for nearly 6h. I have just tried to call and in this time it is back online but very slowly.

Apologies for that!
View article · Tue, 20 Sep 2022 05:55:06 +0000
---
[WEP-M+2] 12-digit factor of P2203 has now been found by the project...
...374646 times
View article · Mon, 19 Sep 2022 10:51:01 +0000
---
[ODLK1] The results of the ODLK1 project for January-March 2022
The results of the ODLK1 project for January-March 2022 have been published.

Application odlk3: 422819 CF ODLK;
Application odlkmax: 486530 CF ODLK.

Yandex.Disk
https://disk.yandex.ru/d/8WxL-T-PzK0E6w
Archive ODLK1_Jan-Mar2022_named.7z
14.5 MB.
View article · Mon, 19 Sep 2022 06:25:23 +0000
---
[PrimeGrid] Riemann's Birthday Challenge starts September 17th
The sixth challenge of the 2022 Series will be a 3-day challenge celebrating the 196th birthday of the German mathematician Bernhard Riemann. The challenge will be offered on the WW application, beginning 17 September 20:00 UTC and ending 20 September 20:00 UTC. To participate in the Challenge, please select only the Wieferich and Wall-Sun-Sun Prime Search (WW) project in your PrimeGrid preferences section. Issues? Inquiries? Interjections? Join the discussion at https://www.primegrid.com/forum_thread.php?id=9993&nowrap=true#156946
View article · Wed, 14 Sep 2022 18:05:24 +0000
---
[SETI@home] RIP Frank Drake
We are sad to report that SETI pioneer and originator of the Drake Equation passed away on September 2nd. Frank at the age of 92. Frank conducted the first SETI experiments capable of detecting radio signals at nearby stars distances, He continued to be a large influence on the field into his 90s.

Dan Werthimer had this to say:
If it weren't for Frank, I'd be filthy rich. When the first microcomputer chips came out in the early 70's I joined the Homebrew Computer Club, along with Steve Jobs and Steve Wozniak. Everybody in Homebrew became ultra-rich, except me.

While other homebrewers were designing and selling the first home computers, I spent my time figuring out how to utilize the first computer chips for SETI experiments, thanks to Frank. I didn't become rich, but instead I was inspired by Frank to work on some of the most fundamental questions we have as humans. He taught me so much - I was incredibly fortunate to work with Frank on many SETI experiments for 45 years. Frank's insights led to optical SETI, SETI@home, and most recently, while in his 90's, Frank helped pioneer PANOSETI.

Frank was a wonderful friend, mentor, and brilliant collaborator. If Earthlings ever find ET, we'll have Frank to thank.
View article · Sun, 4 Sep 2022 22:04:33 +0000
---
[QuChemPedIA@home] Project update
Dear crunchers.

The project was developed a few years ago with an intern and a very limited budget. Despite many project submissions, we did not get any funding. Sometimes we are told that our project is too ambitious, sometimes not enough... It is discouraging! The truth is that the public funding of research in France is extremely low.

Our prototype programs are outdated. At the beginning, I struggled with VMs, then security changes in the Linux kernel started to prevent the application from running properly.

Despite everything and thanks to you (thank you!), we are coming to the end of a computing campaign and the integration of the data will take me a lot of time. The project is obviously not finished and we could still submit many calculations. But today the priority is to analyze and valorize what we already have. I'll go through the last calculations that had problems and see if I can resubmit some tasks, but very soon there will be no more WU.

We have made a lot of progress with little funding, we will continue to share our scientific publications with you. Moreover, we are currently finishing writing an article and I can already tell you that we have developed a way to greatly reduce the calculations of unstable molecules.

See you soon
Kind regards,
Benoit
View article · Mon, 29 Aug 2022 09:42:32 +0000
---
[RakeSearch] Processing of the square # 18 completed
Dear participants, processing of the square # 18 is fully completed! The square:

0 1 2 3 4 5 6 7 8 9 A B
1 2 0 4 5 3 8 6 7 B 9 A
2 0 1 5 3 4 7 8 6 A B 9
6 8 7 9 B A 2 1 0 5 4 3
8 7 6 B A 9 0 2 1 3 5 4
7 6 8 A 9 B 1 0 2 4 3 5
9 B A 8 7 6 5 4 3 0 2 1
A 9 B 6 8 7 4 3 5 2 1 0
B A 9 7 6 8 3 5 4 1 0 2
5 3 4 0 1 2 A B 9 6 7 8
4 5 3 2 0 1 B 9 A 7 8 6
3 4 5 1 2 0 9 A B 8 6 7

has 153240804 orthogonal mates which puts it on the 16th place of the rating which include now 4717 positions. We expected that the smallest number of orthogonal mates would correspond to this square (in comparison to other squares processed in RakeSearch) and now we see that the possible number of orthogonal mates for squares selected for processed in our project lies in the range between hundreds of millions to billions.

Now "high part" of spectra of ODLS-12 looks like this (square # 18 marked by red):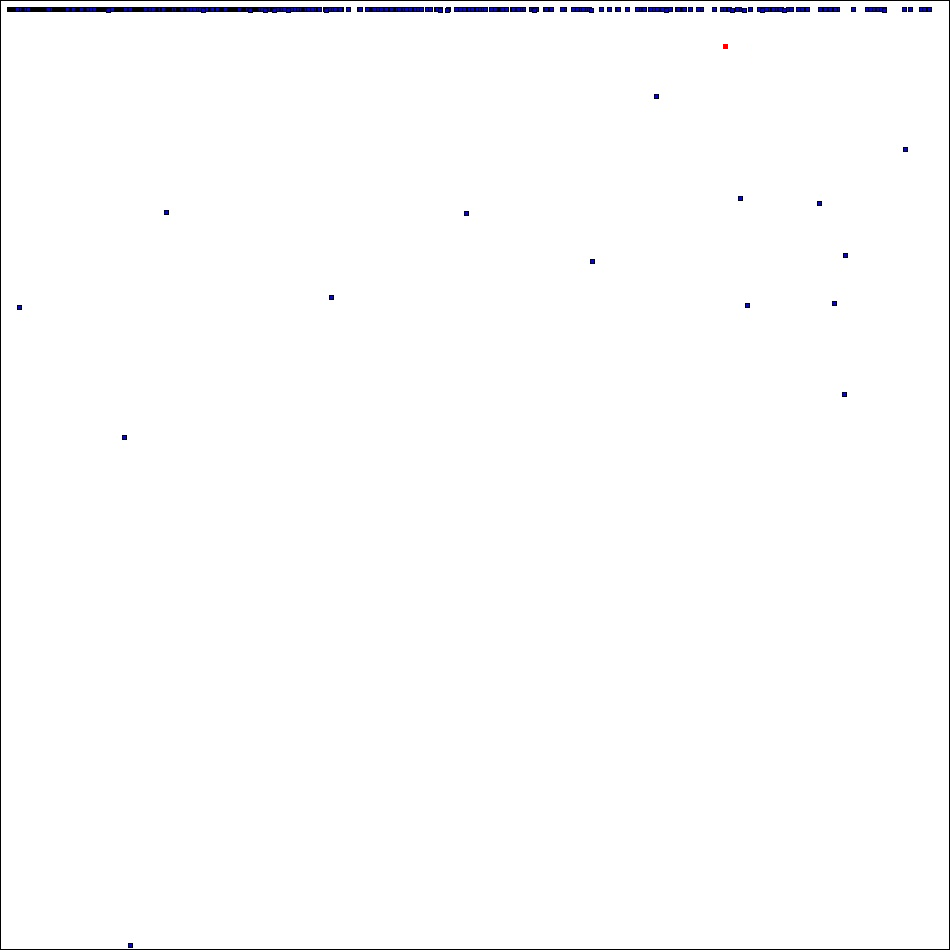 Thank you for participation and donation of CPU Time!
View article · Sun, 28 Aug 2022 21:00:45 +0000
---
[ODLK1] Connection ok
hi,

the service provider say that problem on network should now be resolved.

Thanks
View article · Wed, 24 Aug 2022 18:41:18 +0000
---
[ODLK1] Back from holiday
hi,

Murphy law is always in on modality!

Last year I did not went to holiday and all was fine.

This year I takes 15 days holiday to compensate the last years, and something goes wrong!

I leaved on 6 and the day 7 I got an email notification that my weather station (that every five minutes put online the collected data), was not online (it uses the same internet connection of the server).
However when I check the station and server connectivity from the cell all was fine.

But every days/few days, I got that the weather station was going offline for 2 to 8 hours, but always when I check it it was back online, so I suppose the station has some problem (maybe low internal battery).

When I come back last day, I see that weather station was ok, but I got no internet connection instead!

So it happens that for 15 days connection to server has some blackout (fortunately that was not for more that 8 hours in some days, so all can still get credits).

Now the service provider is investigated the issue, so if you get some hours of not connection to the server this is due for this problem that I hope will be fixed soon.

Thanks
View article · Tue, 23 Aug 2022 17:01:10 +0000
---
[WEP-M+2] 12-digit factor of P2203 has now been found by the project...
...370149 times - still no sign of any larger factors
View article · Fri, 19 Aug 2022 10:51:02 +0000
---
[NumberFields@home] Future of the Project
I've been procrastinating in sharing some news and I finally got around to doing it.

My old thesis advisor who has been backing this project retired in May. I don't actually work for the university, so this means the project has lost is primary benefactor.

The good news is that the university has allowed the project to continue. The bad news is that they will not be supporting any more hardware upgrades. This means when the current hardware fails the project will come to an end.

I'm hoping the current hardware can last several more years. One of the most critical parts is the hard drive, and we just got a new one about 1.5 years ago. Given that the previous hard drive lasted over 4 years, this is a positive.

This news has played into my reasoning on the order of the searches. Given that sf3 is practically guaranteed to be complete, I though it was prudent to use our finite time to first concentrate on sf7. The short term goal is to get sf7 to the same state that sf3 is currently in, which should take us into early next year. At that point, we can either spend the time to finish off sf3 and sf7, or continue on with sf6. Doing sf6 will allow us to find more fields in the finite time we have left, but finishing off sf3 and sf7 will allow us to say with 100% certainty that they are indeed complete. I am leaning towards finishing off sf3 and sf7, but that may change as time goes on.
View article · Wed, 10 Aug 2022 17:18:41 +0000
---
Copyright © 2022 University of California. Permission is granted to copy, distribute and/or modify this document under the terms of the GNU Free Documentation License, Version 1.2 or any later version published by the Free Software Foundation.